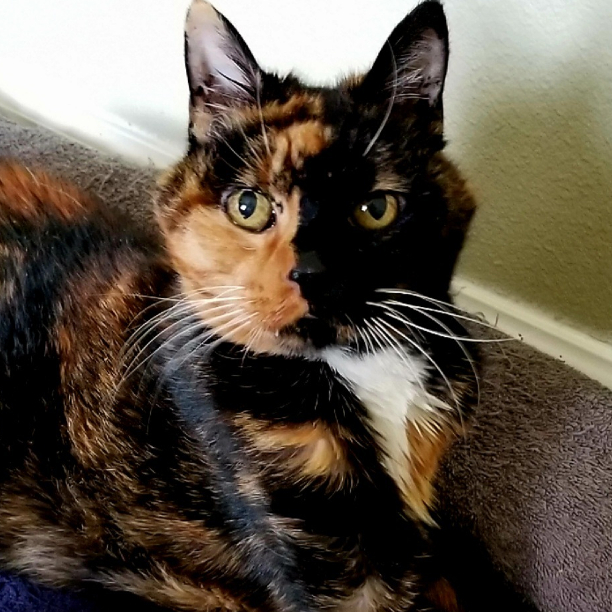 Dora was 11 years old when her family, that had her since she was a kitten, surrendered her to a local shelter. She had developed a neurological condition that caused shaking and mobility issues, and she had stopped using the litter box. The shelter reached out to SNAP Cats and she came to our facility in October 2016.
As a regular volunteer I got to know Dora from the day she arrived. She was the first one I greeted upon arrival. I would say her name as I came through the door and she would stand up to greet me and wait for pets. She especially loved head scritches, which caused much drooling on her part. This never changed.
Around November of 2017 I began considering adding to my household again. After much consideration the decision was DORA.
Dora came home with me for foster to adopt on December 31st. I made the adoption official the next day. Happy New Year to us both!
Dora settled in very quickly and I was blessed to know her and love her for the next 4 ½ years.
Dora loved being outside in the sun, or in the shade of a bush on warmer days. She enjoyed sitting with me on the sofa and was exceptionally quick to take my spot EVERY time I got up. She loved her wet food but was especially fond of her treats. And she would let me know she still wanted more by smacking her paw on the floor, her nails clicking. Smart girl.
Over the years her mobility slowly declined so I began moving her around. From her heated bed in my office, to the sofa with me in the evening, or her padded mat at mealtime. Always close by me. Dora was always able to let me know what she needed, right until the end.
My Dora Love, I will miss you forever.