Prospective volunteers
Thank you so much for your interest in volunteering with SNAP Cats! Our volunteers play an essential role in helping provide the best quality of life for our beloved cats. Please take some time to explore the various volunteer opportunities we have to offer. The next step is to fill out a new volunteer application and indicate which role interests you the most.
**Please note that the minimum age to volunteer is 16 years-old.

Cleaner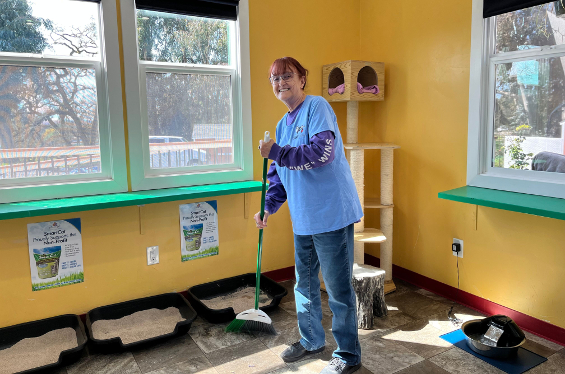 At SNAP Cats, a clean environment is a priority for the health of our cats. As a cleaner you provide much needed support in maintaining a healthy facility. Cleaning duties include:
Sweeping & mopping
Deep cleaning litter boxes
Cleaning up messes on the floor (we have many incontinent cats, so poop and pee is part of the job)
Vacuuming area rugs
Replacing cat towels and bedding
Helping keep walls, windows and doors clean in cat rooms
Cat Feeder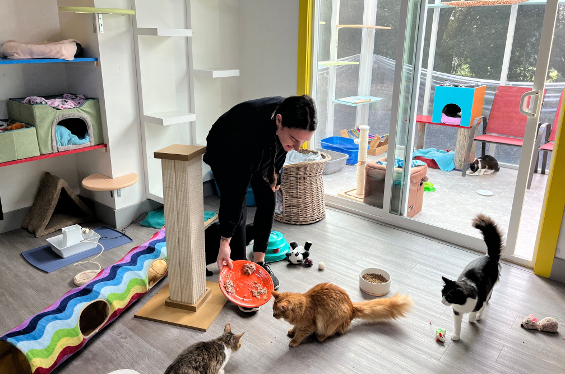 As a cat feeder, you can earn your way into the hearts of our kitties very quickly! This fun job involves serving breakfast, lunch, or dinner to our wet food-loving cats.
Breakfast (8am), Lunch (12pm), Dinner (5:45pm)
*Requires weekly commitment at least 1-2 days and additional training
Cat Care Technician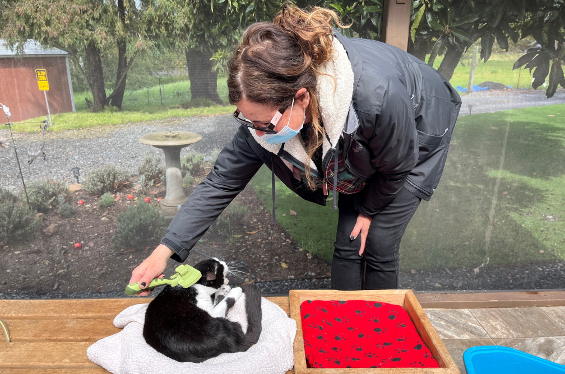 At SNAP Cats, a cat care technician helps keep our cats looking and feeling their best! This role involves building trust with the kitties and helping them become more socialized and confident. Additional grooming duties include the following:
Nail trimming
Brushing
Mat removal
Bathing
Ear cleaning
**requires weekly commitment at least 1-2 days and additional training
Office Assistant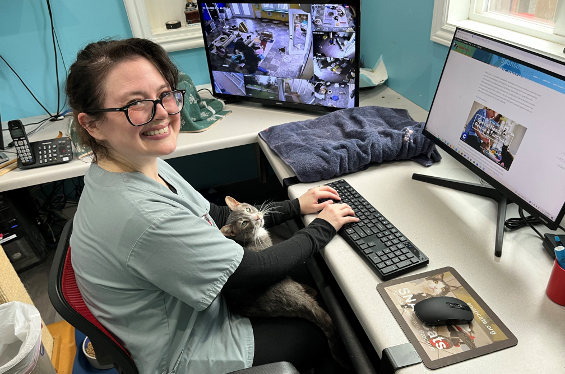 An office assistant wears many hats! This role is important in helping SNAP Cats educate the community about special needs cats, design and implement outreach projects and events, and help with general office work such as:
Answering phones
Picking up supplies from stores
Restocking food, kibble, and cleaning supplies where needed
Keeping the office clean
Adding volunteers to our email mailing list
Checking our general email box
Minimum 1 day a week requirement or as needed
Animal Transportation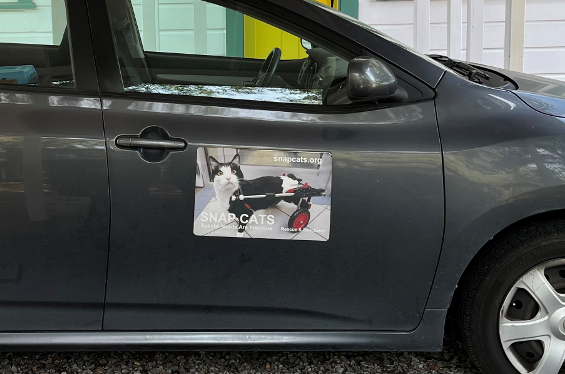 Drop off and pick up SNAP Cats locally, or make longer distance transfers to/from other shelters, rescues, and sanctuaries as needed. This includes:
Dropping off and picking up cat(s) at our vet clinics
Bringing new cats to our facility
Transporting materials and/or cats to events
Social Media/Website
If you have experience in creating social media content, marketing channels, video, photography, etc., we have an opportunity for you to help SNAP Cats expand and maintain our online presence. The main responsibilities of this role are to help with social media-related tasks to ensure that our media "followers" are kept up to date on our kitties and rescue activities. This includes:
Posting content daily on our social media pages
Creating short videos featuring our kitties and staff to post
Taking pictures of our kitties to post
Regularly updating our website's information
Uploading photos and biographies for our adoptable cats
Helping with content for our email blasts
Developing new social media strategies to improve our media reach
We ask that all volunteers, regardless of your specified role, to please scoop litter boxes and sweep at the beginning and end of your shift. It takes a village at SNAP Cats, and these are necessary jobs to help maintain the best environment for our cats.
**If any volunteer has physical limitations please let us know.
We understand that last minute changes and emergencies occur, when that happens we can be flexible! If you need to change a shift day/time or you are running late please email us: info@snapcats.org or call (707) 836- 6000.
**If you have not received an email response to your application within 2 business days, please check your spam folder. 
Thank you for your support and devotion to animal care!
Volunteer Application