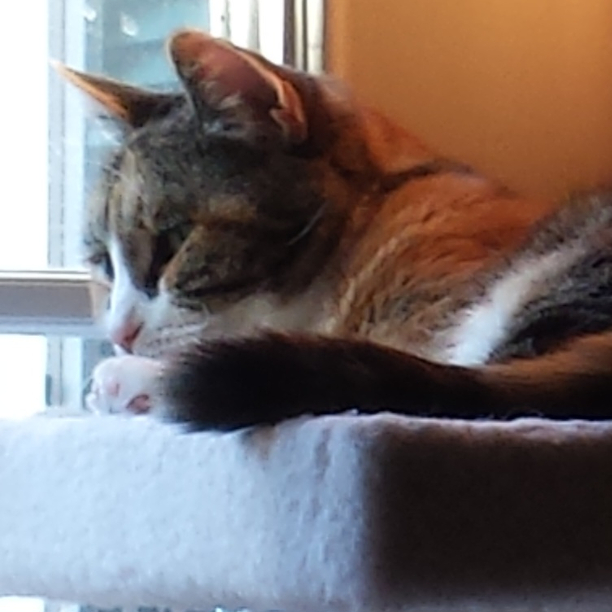 At age 16 years 7 months October was surrendered to a local shelter by her family that had her since she was a kitten. They were moving out of state and couldn't have her at their new residence. Due to her age and health conditions (not urinating in the litter box was part of it) the shelter deemed October unadoptable. She was also very timid and shy. Here enters SNAP Cats, who rescued October and put her on their Facebook page. It was a story and a face I had to say YES to. I had a quiet home with an extra bedroom she could call her own.
October started out mostly under the bed, but within reach for me to pet her when I laid down on the floor. Within a few weeks she started coming out to sun herself and sleep on the cat tree in the window. And eventually coming out when I would sit on the floor and just hang out, letting her get used to me and the smells of my other two cats.
Fast forward another couple months – October is running the house. And using the litter box again.
Allowing her the opportunity to open up on her terms gave me the pleasure of discovering her beautiful personality one gift at a time. At 16+ she was still very playful and especially loved Peacock feathers. October loved jumping inside boxes and playing "catch the finger". (Sadly, she had been declawed sometime in her past.)
When she found her voice again it was LOUD. Turns out she was mostly deaf. I adored her voice.
But my favorite thing was how much October enjoyed curling up in my lap every time I sat down on the sofa. I called her my Calico swirl.
I was blessed to have October in my life for a brief 18 months. She was one of the sweetest kitties I have ever known and she left indelible footprints in my heart.